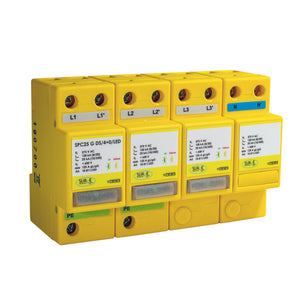 Surge Protection Devices 10811/LED
£56940

£569.40

excludes VAT at 20%
0 in stock.
Usually dispatched within 3-5 working days.
---
---
Surge Protection Devices 10811/LED – Type 1+2+3, 100kA (Level 1), 3 phase, all/full mode protection with LED indication 
Lightning protection Level 1, highest protection level 100kA, 10/350µs.
Enhanced protection to BSEN62305, BSEN61643-11 & BS7671.
Combined arrester can handle direct lightning strikes and protect sensitive electronic equipment.
Very low let through voltage between all conductors less than 600V.
Full mode protection, phase to earth, phase to neutral, phase to phase, neutral to earth.
Three way visual indication of status.
Remote changeover contacts can be linked to BMS, buzzer, light etc.
Will extinguish follow currents after activation.
Internal thermal disconnector.
Din rail mountable.
Minimum back up fuse / MCB 63A.
Recommended cable size 25mm².
Can be supplied in polycarbonate IP65 or metal housing.
Manufactured in Europe.
Competitively priced against other brands.
The Surge Protection Devices 10811/LED is an advanced surge protector that provides superior protection to your electronic equipment against power surges and voltage spikes.
With its sleek design and advanced technology, this surge protector is the perfect choice for anyone looking to safeguard their valuable electronics. Featuring LED status indicators, the 10811/LED lets you know at a glance that your electronics are protected and functioning properly.
Designed to protect up to 11 devices at once, the 10811/LED is ideal for use in both residential and commercial settings. Whether you're using it to protect your home theater system, office equipment, or industrial machinery, the 10811/LED provides reliable and effective protection for all your electronic devices.
So why wait? Order your Surge Protection Devices 10811/LED today and enjoy the peace of mind that comes with knowing your valuable electronics are protected from power surges and voltage spikes. With its easy-to-use design and advanced technology, the 10811/LED is the perfect solution for anyone seeking a high-quality surge protector. Don't settle for anything less than the best - choose the Surge Protection Devices 10811/LED and experience the ultimate in electronics protection.