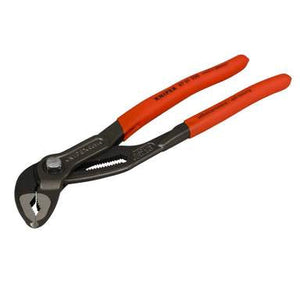 Knipex 8701250SB 250mm Cobra Waterpump Pliers
£2565

£25.65

excludes VAT at 20%
---
---
Knipex 250mm Cobra Waterpump Pliers
Knipex 8701250SB
Introducing the Knipex 8701250SB 250mm Cobra Waterpump Pliers: Unleash the Power of Precision and Versatility
When it comes to high-performance hand tools, the Knipex 8701250SB 250mm Cobra Waterpump Pliers are a cut above the rest. These pliers are more than just a tool; they're a testament to precision engineering and adaptability. Whether you're a professional tradesperson or a dedicated DIY enthusiast, these Cobra Pliers are designed to be your trusted sidekick for a multitude of tasks.
Key Features:
Unmatched Precision: With their patented push-button adjustment mechanism, these pliers offer an unparalleled level of precision. Easily set the jaw width to precisely match the workpiece you're handling. Say goodbye to guesswork and hello to a secure and accurate grip every time.

Durable Design: Knipex is synonymous with quality and durability. These Cobra Pliers are built to endure the rigors of professional use. They're crafted from high-quality materials, ensuring they stand the test of time.

Secure Grip: The self-locking jaw design means that once you set your grip, it stays firmly in place. Whether you're clamping, holding, or turning, these pliers ensure a secure and stable hold on the workpiece, reducing the risk of slipping or damaging delicate surfaces.

Versatile Jaw Shape: The unique jaw shape of the Cobra Pliers accommodates a wide variety of shapes and sizes. From pipes and nuts to round and flat workpieces, these pliers provide an adaptable grip that simplifies your work.

Ergonomic Handle: The pliers feature an ergonomic handle design with slip-resistant, comfort-grip material. This reduces hand fatigue and enhances control during extended use, making them comfortable and efficient to work with.

Built-In Pinch Guard: Safety is a priority with these pliers. They include a built-in pinch guard to protect your fingers from accidental pinching or crushing, ensuring your hands stay safe throughout your tasks.

Easy One-Handed Operation: These pliers can be easily adjusted with one hand, thanks to the quick and convenient push-button mechanism. This streamlines your workflow and saves you valuable time during your projects.

Indispensable for Multiple Applications: The Knipex Cobra Waterpump Pliers are designed for a wide range of applications, from plumbing and automotive work to general maintenance and repairs. Their adaptability and precision make them a must-have tool for any toolbox.
The Knipex 8701250SB 250mm Cobra Waterpump Pliers exemplify the pinnacle of precision and versatility in hand tools. Whether you're a professional tradesperson or a passionate DIY enthusiast, these pliers will quickly become an essential part of your toolkit, simplifying your tasks and delivering precise results.
Elevate your work with the confidence that comes from using quality tools. Choose the Knipex 8701250SB 250mm Cobra Waterpump Pliers and experience the difference they make in your projects. Invest in these versatile and reliable pliers today and unleash their power in your work.
KNIPEX Cobra® - the Hightech Water Pump Pliers. No more time-consuming presetting of the required opening size. Just position the upper jaw to the workpiece, push button and move close the lower jaw, ingeniously simple
Push the button for adjustment on the workpiece
Fine adjustment for optimum adaptation to different sizes of workpieces and a comfortable handle width
Self-locking on pipes and nuts: no slipping on the workpiece and low handforce required
Box-joint design for high stability due to double guide
Reliable catching of the hinge bolt: no unintentional shifting
Guard prevents operators€™ fingers being pinched
Chrome vanadium electric steel, forged, oil-hardened
| | |
| --- | --- |
| Brand | Knipex |
| Adjustment Position | 25 |
| Colour | Red |
| Dimensions | (L)250 mm |
| Finish | Grey Atramentized |
| Handle Type | Non-Slip Plastic Coating |
| Head Type | Polished |
| Jaw Capacity | 50mm |
| Length | 250mm |
| Material | Chrome Vanadium Electric Steel |
| Packaging Types | Each |
| Unspsc V18 | 27111761 |
| Weight | 0.357kg |